James Monroe

James Monroe
by: J. T. Lawson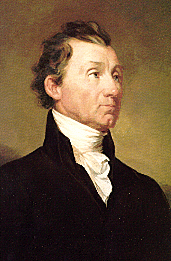 James Monroe was the fifth President of the United States. Monroe was born in Westmoreland County, Virginia, on April 28, 1758. He attended the College of William and Mary and left in 1776 to fight in the American Revolution. Monroe received the commission of a lieutenant in the Virginia regiment. Later, he left to join General George Washington's army.
Monroe worked with Washington and fought in many New York battles. During the following two years, Monroe worked closely with Washington and became close friends with him.
Monroe later met Thomas Jefferson and in 1779 began to study law under him. This was possibly the most important friendship Monroe formed. He held many important offices. He was a member of the Virginia legislature in 1782. Monroe was a delegate to the Continental Congress from 1783 to 1786. He was selected to serve as a member of the ratifying convention for Virginia in 1788. It was here that he opposed the adoption of the new Constitution. He served as a U. S. Senator from Virginia from 1790 to 1794.
Monroe served as Minister to France from 1794 to 1796. His familiarity with the French government helped greatly in the upcoming negotiations for the Louisiana Purchase.
In 1803, Thomas Jefferson sent Monroe on a second diplomatic assignment to assist Robert Livingston in negotiating the purchase of New Orleans from the French. The two were surprised when Napoleon I offered to sell the entire Louisiana Territory. At this point, Monroe and Livingston negotiated a deal to purchase the entire area of land.
Monroe was elected as the fifth President of the United States. He served as President from 1817 to 1825. He is famous for the Monroe Doctrine. Click Here For More Information About James Monroe.