Ernest Hemingway

by: J. T. Lawson

Ernest Hemingway was born in Oak Park, Illinois, on July 21, 1899, to Dr. Clarence Edmonds and Grace Hall Hemingway. He was one of the most influential American Authors of the Twentieth Century. Following graduation from High School, he worked as a reporter for the Kansas City Star. Hemingway served as a volunteer in World War I. In May of 1918, Hemingway joined the war effort and worked as an ambulance driver while a Second Lieutenant in the Red Cross. Toward the end of the War, in 1918, he was seriously wounded in Italy on July 8, 1918. It was during this time that Hemingway fell in love with a nurse, Agnes Hannah.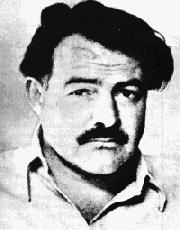 He worked as a journalist for the Toronto Star in 1920. In the fall of 1921, he married his first of four wives, Hadley Richardson, in Chicago. In 1921, the Hemingways went to Paris. Ernest was to serve as a foreign correspondent (1921-1924). Scholars feel that things Hemingway experienced during the War affected his works; i.e., the emphasis on psychological and physical violence as well as the need for personal courage.
While in Paris in 1921, Hemingway met many American writers including Ezra Pound, Gertrude Stein, and F. Scott Fitzgerald. He became the chief spokesman for the "Lost Generation," a term coined by Stein which described their group of young writers.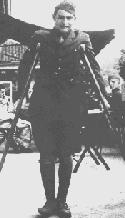 Three Stories and Ten Poems, Hemingway's very first published works debuted in 1923. A collection of short stories relating to boyhood experiences in Michigan , entitled In Our Time, was published in 1924. Fourteen short stories were added to In Our Time and published by Boni and Liveright in 1925.

Two of Hemingway's early novels, The Sun Also Rises (1926) and A Farewell To Arms (1929) are considered his most famous. The Sun Also Rises describes a group of Americans who were disillusioned by war. Many scholars hold that this novel reflects ideas that Hemingway's group, the Lost Generation, held. A Farewell To Arms is a tragic love story set in World War I Italy.
In 1927, Hemingway married Pauline Pfiffer and published a short story collection, Men Without Women. He also returned to the United States that year and son, Patrick, was born. In 1929, Hemingway's father committed suicide in Oak Park, Illinois. In 1931, another son, Gregory, was born and Hemingway bought a home in Key West, Florida. He lived there ten years.
Two short story collections were published during the 1930's. These collections contain some of Hemingway's greatest writings. These include, The Short Happy Life Of Francis Macomber, A Clean, Well-Lighted Place, and The Snows Of Kilimanjaro. Hemingway also penned some non-fiction works. Death In The Afternoon (1932) was about bullfighting and The Green Hills Of Africa (1935) was a work about a safari on which Hemingway was a part.

Hemingway served as a war correspondent in 1936 during the Spanish Civil War. In 1937, To Have And Have Not was published. Hemingway also had influence in filmmaking. In 1938, he collaborated with filmmaker, Jonis Ivens, on The Spanish Earth, a film supporting the Loyalist cause in Spain. Hemingway's experiences during this time inspired the work, For Whom The Bell Tolls (1940), a novel about an American opposing fascists forces in Spain.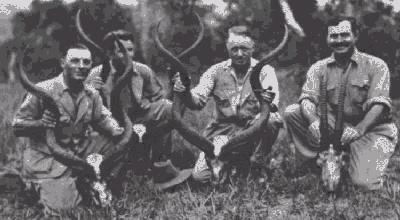 Hemingway became an international celebrity by the time For Whom The Bell Tolls was published. He always appeared to be a colorful, masculine character. The 1940's, however, witnessed a period of Hemingway's life when he published little. Following the publication of For Whom The Bell Tolls, the next published work was not to appear until 1942.

It was then that Men At War was edited by Hemingway and published. The next published work did not appear until 1950.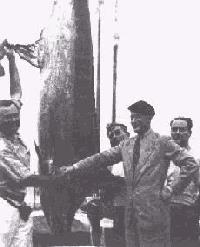 In 1940, Hemingway divorced Pauline Pfiffer and married Martha Gellhorn. At this time, Hemingway purchased Finca Vigra in Cuba.

In 1950, Across The River And Into The Trees was published. It was during this period, and reflected in this work that Hemingway's bitterness toward life became obvious. In 1951, Hemingway's mother, Grace Hall Hemingway, died.

In 1952, Hemingway published The Old Man And The Sea, a novel depicting a strong man who accepts his fate. In the story, an old man fights to catch a marlin only to have it eaten by sharks before he reeled it in.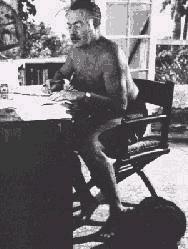 During the decade of the 1950's, Hemingway endured physical and mental illness. Hemingway moved to Ketchum, Idaho in 1960. Shortly after the move, he was hospitalized for high blood pressure, liver disease, diabetes, and depression. This ended with his suicide on July 2, 1961.
A Moveable Feast was published posthumously in 1964. This was based on diaries that Hemingway kept during the 1920's in Paris. Other posthumous works include: By-Line: Ernest Hemingway (1967), The Fifth Column and Four Unpublished Stories Of The Spanish Civil War (1969), Islands In The Stream (1970), The Nick Adams Stories (1972), Selected Letters, 1917-1961, The Dangerous Summer (1985), Dateline: Toronto (1985), The Garden Of Eden (1986), and The Complete Short Stories Of Ernest Hemingway (1987).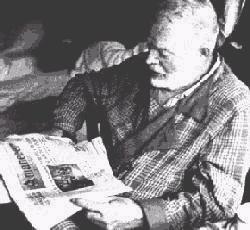 Hemingway received the Pulitzer Prize for The Old Man And The Sea in 1952 and the Nobel Prize for Literature in 1954. He developed a plain, forceful style consisting of simple sentences. His male stereotype character came to be known as the Hemingway hero because the character exhibited courage in the wake of violence and corruption.