John Steinbeck
by: J. T. Lawson
John Steinbeck was born in Salinas, California, February 27, 1902. He was the son of John Ernest II and Olive Hamilton Steinbeck. Steinbeck decided to become a writer at age fourteen. Between 1919 and 1925, he attended Stanford University in an independent study program, but he rarely attended classes and did not receive a degree.
In 1925, Steinbeck moved to New York with hopes of becoming a writer, but worked as a bricklayer and a reporter. He remained in New York two years and returned to California in 1927 to start a career as a novelist.
Steinbeck's first novel, Cup Of Gold, was published in 1929. The novel was not received well by the public and many considered it unsuccessful.
In 1930, Steinbeck married Carol Henning and moved to Pacific Grove. Carol assumed the rold of "bread-winner" and supported herself and Steinbeck while he wrote. He also published a novel To A God Unknown in 1932. In that same year, Steinbeck published, The Pastures Of Heaven, a collection of short stories.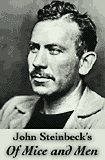 Steinbeck published the novel,Tortilla Flat, in 1935 and earned both critical success and popularity. Other novels to follow were In Dubious Battle (1936) and The Red Pony (1937). Also, in 1937, Of Mice And Men was published both as a novel and as a play.
In 1939, Steibeck published The Grapes Of Wrath which is considered to be his most famous novel.